The Conewago Creek Initiative is a locally-led, collaborative partnership effort in the Conewago Creek watershed in Dauphin, Lebanon, and Lancaster Counties of Pennsylvania.
The Initiative seeks to improve water quality in the Conewago Creek watershed by working with local residents and landowners in the community to increase awareness of and interest in adopting land management practices that will improve water quality of local streams, ensure healthy farms, forests, and communities, and protect and maintain quality of life.
This video shares the progress that has been made and the lessons learned since the start of the Conewago Initiative.
News:
2016 Winter Farmers Meeting: February 25, 9:00 AM- 1:30 PM, Acorn Farms, Mount Joy
This year's Winter Farmers Meeting will be a joint event with Chiques watershed farmers. The meeting will provide area farmers with information on resources available to them, connect them with technical service providers, and be a great way to meet your neighbors. We hope you will join us! Contact Kristen Kyler at 717-948-6609 or by emailing klk343@psu.edu to register for this meeting that includes a FREE LUNCH!
Click the image below to see the Agenda.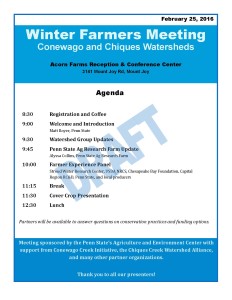 "Like" the Conewago Initiative on Facebook!
The Conewago Creek Initiative distributes a detailed quarterly newsletter, Conewago Currents, to keep watershed landowners and partners updated on the Initiative.
Interested in receiving the newsletter? Email us!
ConewagoCreekInitiative@gmail.com