The Conewago Creek Initiative is a locally-led, collaborative partnership effort in the Conewago Creek watershed in Dauphin, Lebanon, and Lancaster Counties of Pennsylvania.
The Initiative seeks to improve water quality in the Conewago Creek watershed by working with local residents and landowners in the community to increase awareness of and interest in adopting land management practices that will improve water quality of local streams, ensure healthy farms, forests, and communities, and protect and maintain quality of life.
This video shares the progress that has been made and the lessons learned since the start of the Conewago Initiative.
News:
"Stories from the Conewago- the value of conservation to landowners, neighbors, community & society" is a new publication produced by the Conewago Creek Initiative. It shares the stories of hard-working landowners in the Conewago Creek watershed and how their conservation efforts have provided valuable ecosystem services that benefit us all. You may recognize some faces when you view the booklet here: Stories from the Conewago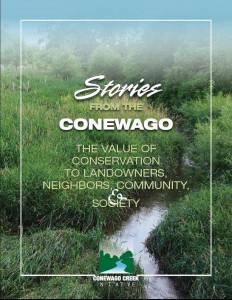 Are you a homeowner, municipality, or business owner looking for a way to improve water quality? Or do you need advice on how to manage the stormwater generated on your property? Check out the new publication developed by the Little Conestoga Partnership in Lancaster County A Homeowners Guide to Stormwater! For a video version:
)
"Like" the Conewago Initiative on Facebook!
The Conewago Creek Initiative distributes a detailed quarterly newsletter, Conewago Currents, to keep watershed landowners and partners updated on the Initiative.
Interested in receiving the email and newsletter? Email us!
ConewagoCreekInitiative@gmail.com