What is the Conewago Creek Watershed?
A "watershed" is the geographic land area from which water drains toward a common watercourse in a natural basin. Thus, the Conewago Creek Watershed is the entire land area from which the Conewago Creek and its tributaries drain. It includes both the water itself and the land surrounding it.
The Conewago Creek Watershed encompasses a 53.2 square mile area in the rolling farm hills and woodlands of Lancaster, Dauphin and Lebanon Counties, Pennsylvania. Its headwaters are just northeast of Mt. Gretna, in the western portion of West Cornwall Township, Lebanon County. It empties into the Susquehanna River just north of the village of Falmouth.
Uses of the Watershed
53% of the land is used for agriculture, with other land uses including: residential, commercial, industrial and state game lands. There are several hiking and biking trails available for use in the Watershed. These include the Conoy Canal Trail, the Conewago Recreational Trail, the Lebanon Valley Rails-to-Trail, the Horse-Shoe Trail, Governor Dick, and various trails throughout Game Lands No. 145. Conewago Lake in Mt. Gretna is open to the public for swimming in the summer. Fishing opportunities are also available. The upper portion of the Conewago is stocked with trout, while the lower portions contain smallmouth bass, pickerel, bluegill and rock bass. If you are interested in fishing the Conewago, please seek permission from the landowner and respect private property!
The Conewago: An Impaired Watershed
Due to over half of the land being used for agricultural purposes, 41.4 miles of streams in the watershed are listed as impaired. In other words, it is too polluted to sustain the kind of fish and other aquatic life that it could sustain if it were a healthy stream. In 1994 and again in 1997, aquatic biologists from the Susquehanna River Basin Commission assessed the Conewago and its tributaries. The results of the assessment identified increased sediment and nutrients from runoff as the major cause of impairment.
Because of the SRBC's assessment, in 1998, the Conewago was placed on Pennsylvania's 303(d) list, a list of impaired waterways throughout the Commonwealth. The following segments of the Conewago and its tributaries are on the list:
15.8 miles of Conewago Creek
(from mouth to confluence with Little Conewago)
11.2 miles of Lynch Run
5.7 miles of Hoffer Creek
3.6 miles of unnamed tributary to Conewago Creek
5.1 miles of unnamed tributary to Conewago Creek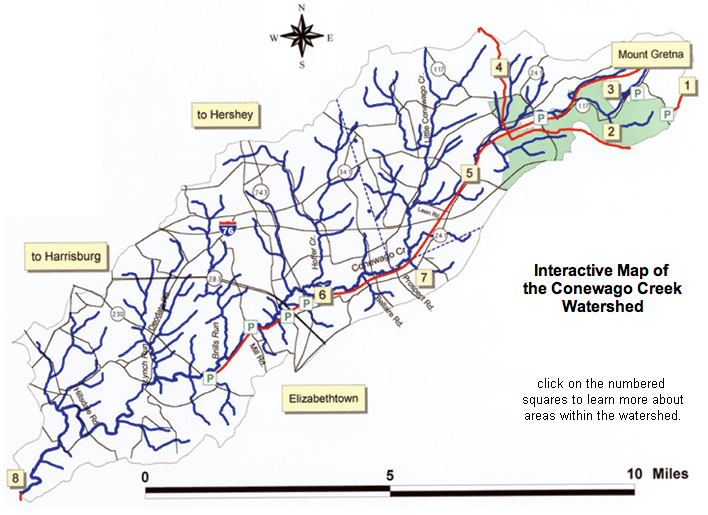 Click on the picture below to learn more about the Conewago Creek Watershed