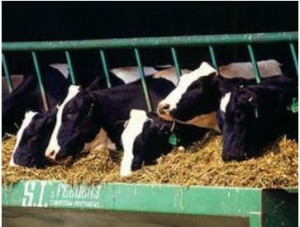 Managing the quantity and form of nitrogen and phosphorous fed to livestock and poultry can minimize the amount of those excreted in manure and the loss to the environment. Precision feeding addresses both how the ration is formulated and implemented on the farm. Properly balanced feeding programs based on confirmed nutrient analyses of feed, forages, and byproducts allow for the best use of available nutrients.
Benefits of Precision Feeding
Research conducted at Universities and on-farm has shown precision feeding to be effective economically and environmentally. Promoting this practice when nutrient management plans are being developed should be considered. Precision feeding of livestock and poultry can improve feed intake and nitrogen efficiencies, which can improve profitability and minimize manure volume and excreted nutrients.
In addition to improved water and air quality, precision feeding has the potential to:
• Improve milk yields in dairy cattle.
• Reduce odor-causing agents in swine manure.
• Increase bird performance and diet utilization.
• Improve income over feed costs.
• Reduce acreage for manure application to meet nutrient balance, thus reducing manure shipping and/or storage costs.
Programs
USDA NRCS
USDA NRCS administers the Feed Management Practice. Financial assistance may be available through the Environment Quality Incentives Program (EQIP) to assist producers in implementing feed management plans for dairy and beef cattle. The Conewago creek is one of USDA's "Showcase Watersheds" meaning the watershed is targeted for resources and funding.
319 Funding
Farms in priority areas of the watershed may also be eligible for funding through the County Conservation Districts' 319 funding.
Web Resources
Poultry Nutrition and Water Quality
Contacts
Mike Snyder, USDA NRCS
(717) 272-3908, Michael.Snyder@pa.usda.gov
Eric Naguski, DCCD
(717) 921-8100, enaguski@dauphinc.org
For a printable version of this information-