For a printable PDF version of this information, click here.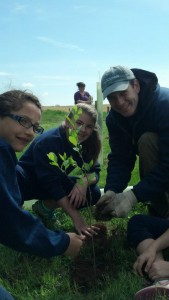 Converting a turf lawn to a forested area has a great value. It increases property values, creates wildlife habitat, and improves water quality. Reforesting even a small portion of your land can significantly benefit the environment. Restoring native plants to the landscape attracts and diversifies wildlife, which increases your enjoyment of the land and helps the environment at the same time
The Benefits of Forests
One of the many benefits provided by trees is improved water quality. Tree canopies intercept a lot of rainfall, allowing it to evaporate, which reduces runoff that may carry pollutants into streams or lead to soil erosion.  Extensive tree root systems help prevent erosion by holding the soil in place. Replacing lawn areas with tree cover and allowing forest soil conditions to develop further reduces runoff as water infiltrates more quickly into the ground.  Forests are the best way to protect water supplies.
Reforesting your land also has tremendous value for wildlife. There are four things wildlife need for survival: food, cover (including brush and logs), water, and space. Forests provide all of these; lawns do not. As a result of reforestation, Pennsylvanians could see an increase in song-birds, birds of prey, turtles, frogs, salamanders, butterflies, and small mammals and their predators. It is important to remember that only native plants will provide wildlife the food they need; therefore, plant only native species.
Forested land also increases property values. Forests provide aesthetic and recreational benefits. They also provide shade in summer, which can reduce electricity bills.
Maintenance
After planting shrubs and trees to reforest your land, it is very important to perform regular maintenance. Maintenance includes protecting trees from deer, mowing weeds for the first several years, and keeping invasive plant species out of your forest.
Web Resources
http://www.patrees.org/file_download/57/WoodInYourBackyardIntro.pdf
Programs
USDA NRCS: All private landowners are eligible for the Healthy Forests Reserve Program (HFRP), which "helps landowners restore, enhance and protect forestland resources on private lands." For more information, visit http://www.nrcs.usda.gov/wps/portal/nrcs/main/national/programs/easements/forests/.
DCNR TreeVitalize: DCNR's TreeVitalize program aims to restore trees to Pennsylvania's urban and suburban areas. To learn more, visit http://www.treevitalize.net/.
Greening the Lower Susquehanna: Thanks to a grant from the National Fish and Wildlife Federation, Penn State has a nursery of "rescued" tree seedlings which are distributed to property owners each fall for free. If interested or to learn more, contact Kristen Kyler at 717-948-6609 or email conewagocreekinitiative@gmail.com.
Interested in implementing this practice?
Contact:
Jim Finley, Penn State Extension
814-863-0402, fj4@psu.edu